MUST-DO ACTIVITIES IN BALI: PEMULAN FARM COOKING SCHOOL
The First And Original Bali Cooking School At Organic Farm In Ubud
I am not an avid cook, but I've always been fascinated by discovering local food and I wanted to learn the basics of Balinese cuisine. It was the best decision to trade a day in the city with this amazing experience, of learning to cook healthy Balinese food. It was the first activity that I've done in Bali and it was the best start for my Bali adventure. Seeing such an authentic Balinese farm, where you can harvest your own ingredients and cook them afterward. I am so happy I saw a part of Bali rarely seen by tourists, I met some friendly locals, and I experienced the true culture of Bali.
Pemulan Farm Cooking School brings a new concept of cooking experience called the "farm to table concept".
How To Get To PEMULAN FARM COOKING SCHOOL?
The location of the farm is Banjar Patas, Taro, Gianyar, Bali 80561.
Rent a scooter starting from 50 000 IDR (approx. 3.2 €/$) per day and go to the farm on your own

I booked the activity directly with the farm and they offer in-the-package pick-up and drop-off in the area of Ubud Center. 
Book the tour on Get Your Guide HERE. Includes Transportation, local market tour, organic farm tour, hands-on cooking class, recipe book, a bottle of water, meal of the food you cook
BOOK ONE OF THE PROGRAMS OF PEMULAN COOKING SCHOOL
The farm school offers different types of programs to learn how to cook local healthy food. Pick up the most suitable program for you.
 Morning Class
This class includes the local market tour! On the way to the farm, you stop at a local market for a brief tour. Upon arrival, you get a tour of the organic farm.

IDR 480 000 / person (31€/$)
Start early morning, 07:15 am at Ubud Meeting point
Free Shuttle in Ubud Center
Afternoon Class
Upon arrival, you'll get a tour of the organic farm and learn how a Balinese family uses natural resources to create a self-sustaining farm. The fresh ingredients you pick will be used to prepare Balinese dishes.

IDR 450.000 / person (29€/$)
Start at 12:15 am at Ubud Meeting point
Free Shuttle in Ubud Center
Advanced Class
Take an advanced cooking class if you want to dive more into Balinese cuisine. You'll discover more local food that uncommonly is served in restaurants or hotels, you'll learn how to make banana trunk soup, wild fern salad, duck or chicken stewed, young coconut salad, and jack fruit curry.

IDR 700.000 / person (45€/$)
Morning at 07:15 or Afternoon at 12:15
Free Shuttle in Ubud Center
Requires a minimum of 2 people or a 50% additional charge will be applied
Cook & Stay
Learn more about Balinese lifestyle, traditions, and local cuisine and mingle with them in the family. This is a great package if you want to stay with a family in the village and take a cooking class during the daytime or afternoon, for dinner. Experience the authenticity of Balinese culture.

IDR 650.000 / person (42€/$)
Morning at 07:15 or Afternoon at 12:15
Free Shuttle in Ubud Center
Requires a minimum of 2 people or a 50% additional charge will be applied
Private Class
I took this program and was paired with another girl that was a Solo Female Traveler. We bonded immediately and had such a good time. Because I am vegetarian, I requested to prepare only vegetarian dishes, and they were so delicious.  You can book a morning or afternoon class. The morning class starts with a visit to the morning market to see day to day life of countryside people. You will have a chance to taste and sample some local tropical fruit or family recipe cake. The afternoon class is without the market tour.

IDR 650.000 / person (42€/$)
Morning at 07:15 or Afternoon at 12:15
Free Shuttle in Ubud Center
Requires a minimum of 2 people or a 50% additional charge will be applied
WHAT TO EXPECT
This is not going to be a  normal cooking class. It will be more of an authentic farming experience where you will discover how locals use natural resources to harvest BIO organic vegetables.
When I was little, my grandma always took me with her during the harvest season, so I know a little thing about growing up on a farm, but even so, I was overwhelmed with emotions, reminding me of my youth age with my grandma. All my limited cooking resumes to what my grandma taught me, like Pickled Cabbage Pie from Transylvania. Being involved in harvesting the vegetables and fruits that we later used for our Balinese recipes was such a powerful experience, I felt like in one of those movies when a city girl goes to the countryside and learns the meaning of life.
You will get a harvest basket where you will put all the organic ingredients you will need for the recipes you will prepare. You'll get a tour of the farm and an explanation of each ingredient. Once you have your ingredients, you hand them to the person who will prepare them for you.
When everything is ready, you start cooking and trust me, you will enjoy every minute of it.
INDULGE IN THE BALINESE CUISINE
Balinese cooking is a plethora of cultural influences. Balinese dishes, cooking styles, and tools for preparing food have been cultivated from other cultures. The Chinese introduced stir-frying, the wok, and the use of soy sauce, Tempe, tofu, cabbage, and bean sprouts to Balinese cooking. The European Dutch colonials introduced pineapple, guava, peanuts, avocado, tomato, papaya, pumpkin, squash, and cacao. The Arabs influenced the popular "sate" with their own Kebab.
The authentic Balinese meals are spicy. In Ubud, the specialty is the duck, in Gianyar, the best suckling pig will be prepared, on the coast, near Kuta, the specialty is fish from the ocean. Real Balinese food is unavailable to tourists unless you get invited to a family dinner. In restaurants or hotels, you will never get real Balinese dishes, simply because authentic Balinese food requires too much preparation, has to be eaten while still fresh, and also because the Balinese use banana leaves as plates.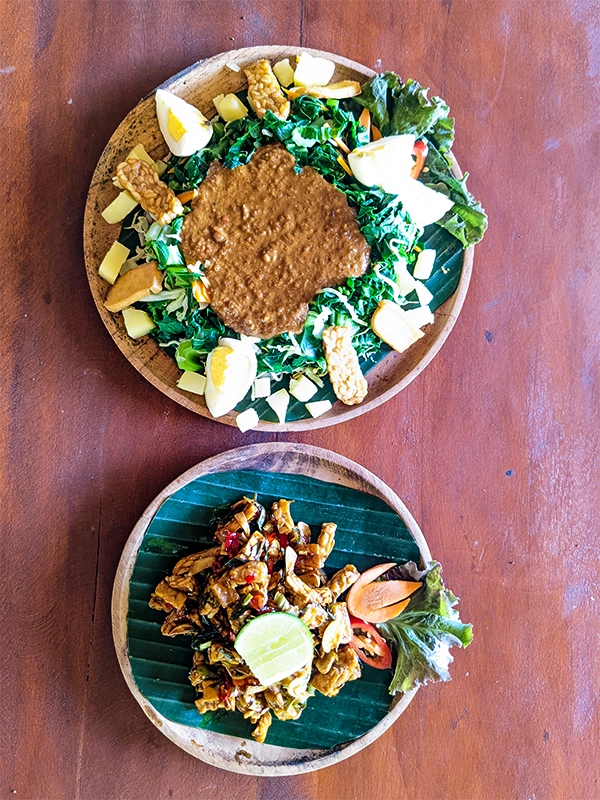 AN UNFORGETTABLE EXPERIENCE
First, we started learning some basics of Balinese cuisine and how to prepare them.
After, we started preparing the first vegetarian dish, Gado with raw peanuts, hot chilies, sweet soy sauce, and coconut milk.
Afterward, we passed on preparing Sweet Sour Tempe with Tempe or Tofu, red chilies, lemongrass, and coconut oil.
We continued with the tasty Pepes wrapped in a banana leaf, with Pisang Goreng and we finished with a mouthwatering desert Bubur Injin (black rice pudding).
And do you wanna know the good part? After everything was done, we got to eat everything. Oh My God, for Fork's Sake, this was the most delicious meal I ever had. Scout's honor. 
BONUS: Safety Tips FOR SOLO FEMALE TRAVELERS IN Bali
Safety issues can be daunting when traveling alone, especially as a solo female. Here you can find some useful tips to make you feel more at ease in Bali:
Don't hold your phone in your hand while on a scooter
Keep your personal belongings safe at close to you at all times
Get basic information on the most common Bali disaster drills, like what to do in an earthquake or volcanic eruption.
Don't swim while the red flags are up! The tides and currents in Bali can be really strong.
CHECK OUT THE BEST ACTIVITY TOURS IN BALI
DID YOU FIND THIS ARTICLE USEFUL?
Tell me in the comments section if you've been to Bali on a Solo trip or if you are planning to go in the near future.
FOR MORE TRAVEL INSPIRATION, FOLLOW ME ON
MY EXPERIENCE AS A SOLO FEMALE TRAVELER
When you arrive in the evening in Playa del Carmen, make sure not to stay in a Hotel in the Downtown center, or on the main street. There are so many bars with loud music that you will not sleep…