HOW TO PREPARE BALINESE DISH BERKEDEL
INDULGE IN THE BALINESE CUISINE
Balinese cooking is a plethora of cultural influences. Balinese dishes, cooking styles, and tools for preparing food have been cultivated from other cultures. The Chinese introduced stir-frying, the wok, and the use of soy sauce, Tempe, tofu, cabbage, and bean sprouts to Balinese cooking. The European Dutch colonials introduced pineapple, guava, peanuts, avocado, tomato, papaya, pumpkin, squash, and cacao. The Arabs influenced the popular "sate" with their own Kebab.
The authentic Balinese meals are spicy. In Ubud, the specialty is the duck, in Gianyar, the best suckling pig will be prepared, on the coast, near Kuta, the specialty is fish from the ocean. Real Balinese food is unavailable to tourists unless you get invited to a family dinner. In restaurants or hotels, you will never get real Balinese dishes, simply because authentic Balinese food requires too much preparation, has to be eaten while still fresh, and also because the Balinese use banana leaves as plates.
INGREDIENTS FOR BERKEDEL
(6 – 8 pieces)
1. Ingredients (portion for 6-8 pcs)
1 chicken egg
1 fresh corn (or yam, potatoes, carrots, cassava)
5 tbs. wheat flour or rice flour/corn flour
2 tbs. BumbuBali / Base Gede – see recipe here
1/4 tsp. salt
1/4 tsp. white pepper
1 tsp. brown sugar
1/2 liter of coconut oil (for frying)
2 pcs. Kaffir lime leaves (small chopped)
*for potatoes use mashed potato instead of fresh ones
2. Additional Vegetables
1/4 red peppers/bell pepper (small-thinly sliced)
1/4 green peppers (small-thinly sliced)
1/4 onions (small-thinly sliced)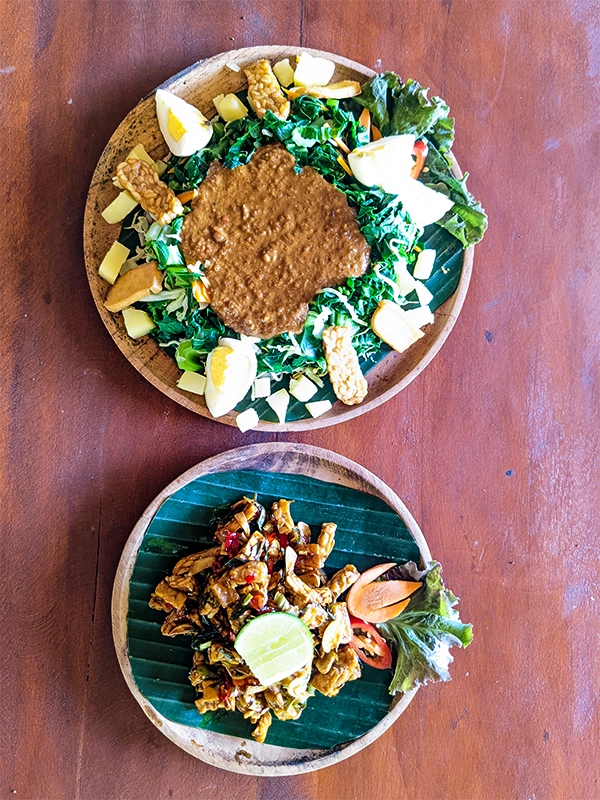 HOW TO PREPARE IT
Slice the corn and divide it into 2 parts. Mash 1 part (or use a blender) and set aside the other part
Mix those two parts of corn together
Cut all the vegetables and seasonings
Mix all the ingredients, vegetables, and spices in the big stainless still bowl until they are well blended (add coconut milk or water if the dough is hard/less liquid)
heat oil at medium heat, and then fry the mixture of about 1 tbsp. size. Fry 4-6 pcs at a time. Wait until they are lightly browned (turn them over to cook both sides)
Congratulations, the Berkedel is ready to be served.
BONUS: STEAMED RICE PREPARATION
In Balinese tradition, rice is made every morning to be eaten throughout the day. 
Preparation of 2 cups white rice
The Balinese people put the rice in a large, shallow basket, shaking it to toss the rice into the air to get rid of the husks. Then, they wash the rice in cold water and drain the water.
Water is brought to a boil in a large pot, and the rice is placed in a conical basket over the pot and covered with a terracotta lid. The rice is steamed for about half an hour. 
They place the rice in a bowl with two cups of hot water and let it sit for 15-20 minutes to absorb the water. Afterward, the rice is replaced on the steamer and cooked for another half an hour to dry it out.
Do not add salt during the cooking of the rice. The Balinese usually serve aside a small bowl of salt, fried shallots, chopped chilies, and coconut oil.
CHECK OUT THE BEST ACTIVITY TOURS IN BALI
DID YOU FIND THIS ARTICLE USEFUL?
Tell me in the comments section if you've been to Bali on a Solo trip or if you are planning to go in the near future.
FOR MORE TRAVEL INSPIRATION, FOLLOW ME ON
MY EXPERIENCE AS A SOLO FEMALE TRAVELER
MUST-SEE CREMATION CEREMONY OF 2 ROYALS IN BALI WHAT IS A CREMATION PROCESSION IN BALI? The cremation procession, locally named, Ngaben, is one of the most important ceremonies in Balinese Hinduism. It's a centuries-old spiritual tradition culminating in the cremation […]