THE ULTIMATE GUIDE TO EATING LIKE A LOCAL IN BALI
INDULGE IN THE BALINESE CUISINE
Balinese cooking is a plethora of cultural influences. Balinese dishes, cooking styles, and tools for preparing food have been cultivated from other cultures. The Chinese introduced stir-frying, the wok, and the use of soy sauce, Tempe, tofu, cabbage, and bean sprouts to Balinese cooking. The European Dutch colonials introduced pineapple, guava, peanuts, avocado, tomato, papaya, pumpkin, squash, and cacao. The Arabs influenced the popular "sate" with their own Kebab.
The authentic Balinese meals are spicy. In Ubud, the specialty is the duck, in Gianyar, the best suckling pig will be prepared, on the coast, near Kuta, the specialty is fish from the ocean. Real Balinese food is unavailable to tourists unless you get invited to a family dinner. In restaurants or hotels, you will never get real Balinese dishes, simply because authentic Balinese food requires too much preparation, has to be eaten while still fresh, and also because the Balinese use banana leaves as plates.
EAT LIKE A TRUE BALINESE
Balinese food is either very sweet or very spicy. Sometimes you will experience both flavors on the same dish, which will turn into a mouthwatering experience. 
Balinese people have a "base gede", or one-spice mixture prepared in large quantities to add to their daily cooking. This mixture consists of garlic, shallots, ginger, chilies, shrimp paste, galangal, salt, and pepper. Balinese people usually use this mixture on duck, pork, fish, chicken, soybean products, vegetables, and rice.
Balinese people love very sweet drinks. They will drink sweetened tea or coffee with their meals or when they have guests.
For snacks, the Balinese eat fruits, sweetened iced coconut milk concoctions, pancakes, and sweet cakes. Balinese people also like buying sweet snacks and mini meals from "warungs" (small stalls by the street) run by a family selling everything from fruits, fried bananas, meals, and brightly colored drinks, to cigarettes, soaps, or mosquito coils. 
The Javanese men push the carts along the street either tooting a horn or blowing a whistle to let people know they're coming. You may find ice cream, sate, meatball soup, or hot noodles on those carts. 
BALINESE course meals
Balinese people eat three meals per day with snacks throughout the day. Usually, the meals are prepared by the mother for all the members of the family, even for newlyweds. She prepares meals two times a day, once in the morning and another in the afternoon, leaving the food out, covered, for anyone in the family to eat when they want to. The family members may even eat in the kitchen where the Mother prepares the food.
When the Balinese eat, they do it alone and quickly. They eat with their right-hand fingers, scooping up food already cut into bite-size pieces while holding the plate in their left hand. On special occasions, they would eat all together and use cutlery.
The Balinese use pestles and mortars to blend their spices, large knives to chop ingredients, and open fires to cook the dishes. Most of the Balinese meals are fried in oil, and the dishes are not meant to last long because they lack refrigeration. The leftovers are given to dogs or pigs. 
Balinese people do not use standardized measurements when they cook meals. They cook instead by taste, based on their experience. Balinese food is usually passed down orally from elders.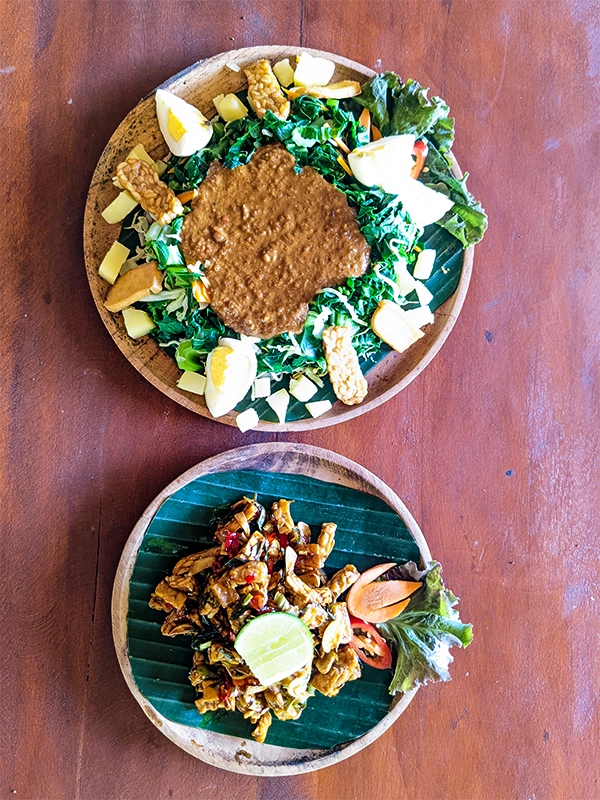 FOOD AS PART OF BALINESE RITUAL
Each day, the Balinese make small rice offerings placed on a piece of banana leaf to their gods, defied ancestors, and even demons for every pot of rice they make.  These small offerings are placed on the ground, on the cooking range, at the source of water, as well as in the family temples of each compound. 
Bali's rice goddess, Dewi Sri, is a favorite goddess among the Balinese. Every six months, the Balinese hold a special rice day to honor her, and in every rice field, there is at least one shrine meant for her.
BALINESE CEREMONIES
 At weddings, a child's first few birthdays, tooth-filing ceremonies, cremations, and anniversaries of families and local temples, the Balinese prepare special dishes for their main meal as well as large towers of food for their offerings. Ceremonial food is usually prepared in the courtyard of one family's temple, or a kitchen. They gather in groups to prepare the food early in the morning. For ceremonies, the men are the ones that prepare the food, while the women work on the rice and offerings. For each ceremony, they sacrifice a pig, duck, or chicken.
The ceremonial meal consists of rice, sate, lawar, saur, tum, ares, betutu, balung, and babiguling. When served, these dishes are both colorful and hearty. These dishes are usually prepared only for ceremonies as they take quite some time to prepare and the ingredients are expensive. 
The tail towers of offerings that Balinese women carry on their heads to the temple consist of vibrantly colored cakes, chicken, fruits, and various treats made from rice. The snacks can be eaten at any time or once the offerings have already been blessed.
RICE – THE CENTRAL PIECE OF BALINESE CUISINE
Rice is a central element of the eating experience of the Balinese people. All meals are centered around rice and sometimes, locals even use the word rice to describe food or the meaning of eating.
Balinese meals consist of rice with side dishes, hence there is no main dish in their cuisine. Locals grow and eat various kinds of rice including the newly introduced high-yielding white rice, sticky rice, red rice, black rice, and the traditional Bali white rice.
THE BALINESE KITCHEN
Traditional village Balinese kitchens are usually smoky, dark, and murky. They are considered one of the least pure areas of the compound and are usually found in the southwestern part of the compound. 
While Balinese families might eat in the kitchen, they never allow their guests to eat in the kitchen area. The tools they use to prepare food are very simple and not too many.
They prefer doing everything by hand, cooking over an open fire, and working with several people at once to prepare dishes.
BONUS: Safety Tips FOR SOLO FEMALE TRAVELERS IN Bali
Safety issues can be daunting when traveling alone, especially as a solo female. Here you can find some useful tips to make you feel more at ease in Bali:
Don't hold your phone in your hand while on a scooter
Keep your personal belongings safe at close to you at all times
Get basic information on the most common Bali disaster drills, like what to do in an earthquake or volcanic eruption.
Don't swim while the red flags are up! The tides and currents in Bali can be really strong.
CHECK OUT THE BEST ACTIVITY TOURS IN BALI
DID YOU FIND THIS ARTICLE USEFUL?
Tell me in the comments section if you've been to Bali on a Solo trip or if you are planning to go in the near future.
FOR MORE TRAVEL INSPIRATION, FOLLOW ME ON
MY EXPERIENCE AS A SOLO FEMALE TRAVELER
MUST-SEE CREMATION CEREMONY OF 2 ROYALS IN BALI WHAT IS A CREMATION PROCESSION IN BALI? The cremation procession, locally named, Ngaben, is one of the most important ceremonies in Balinese Hinduism. It's a centuries-old spiritual tradition culminating in the cremation […]