THINGS TO AVOID AS A SOLO TRAVELER IN BALI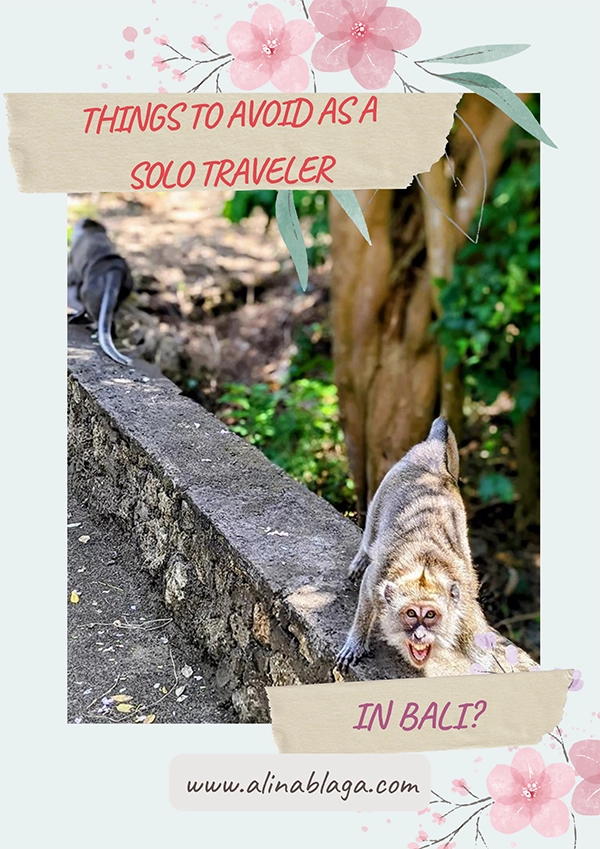 TRAVELING TO BALI  IS 100% SAFE, but there are some things to avoid!
I've been on so many Solo Travels that you would think I got used by now. I always do my research before going on a Solo trip, to know what to expect and what to avoid. I want to have a pleasant experience and keep myself away from trouble. Bali is 100% safe, don't worry about that. Here you can find 3 reasons why Bali is safe for solo travelers.
What Should I Avoid in Bali?

Bali is the most famous island in the world. It is the dream of everyone I know to go to Bali at least once in their life. And the dream of going back to everyone that has been at least once on the island of the Gods.
From sacred temples to surfing dreamy waves, backpackers, digital nomads, and solo traveling tourists fall in love with this incredible island.

As you know by now, there are always things to avoid when traveling on your own, no matter of your gender or culture.
Let's take a look at what not to do in Bali:
Avoid drinking tap water.
Avoid renting a scooter without a license
Avoid riding a scooter without a helmet. The fines are pretty high.
Dress properly when visiting Balinese Temples, with their sarong, to show some respect for their culture and tradition.
Make sure you wear mosquito spray or be covered as much as you can. They are everywhere.
Steer clear from the monkeys, especially in Uluwatu Temple! The monkeys are very cute but they can turn into wild creatures very fast
Pro tip: All you need to know about Monkeys in Bali
There are a few guidelines you should know and by all means, abide if you want to have a good experience with the Monkeys.
1. Don't bring any food at all. You will see people trying to sell you bananas. Even if it sounds tempting, remember that food can transform a cute fluffy monkey into the devil itself.
2. If the monkeys get close to you or jump on you, drop any food you have.
3. Keep calm and don't scream. Screaming frightens them and makes them more aggressive.
4. Don't touch, grab or disturb the monkeys
5. Don't feed the monkeys peanuts, cookies, bread, snacks or drinks
The monkey's diet is very important and so it is maintaining their health.
6. Don't wear long dresses, as I did. Monkeys love them, they will play with them and things can turn ugly.
I moved my feet just a little bit and the Monkey bit me. It wasn't too deep so I did not need first aid medical attention.
Safety Tips FOR SOLO FEMALE TRAVELERS IN Bali
Safety issues can be daunting when traveling alone, especially as a solo female. Here you can find some useful tips to make you feel more at ease in Bali:
Don't hold your phone in your hand while on a scooter
Keep your personal belongings safe at close to you at all times
Get basic information on the most common Bali disaster drills, like what to do in an earthquake or volcanic eruption.
Don't swim while the red flags are up! The tides and currents in Bali can be really strong.
CHECK OUT THE BEST ACTIVITY TOURS IN BALI
DID YOU KNOW THAT BALI IS TOTALLY SAFE FOR A FEMALE TRAVELER?
Tell me in the comments section if you've been to Bali on a Solo trip or if you are planning to go in the near future. Do you feel safe in Bali?
FOR MORE TRAVEL INSPIRATION, FOLLOW ME ON
MY EXPERIENCE AS A SOLO FEMALE TRAVELER
MY EXPERIENCE AS A SOLO FEMALE TRAVELER IN THE PHILIPPINES Going on a Solo Trip, especially as a female traveler can be overwhelming. I've been on so many Solo Travels that you would think I got used by now. But […]