10 THINGS TO DO ON A SOLO TRIP TO TULUM
THINGS TO KNOW BEFORE VISITING YUCATAN PENINSULA
Are you planning a 2 weeks trip to Mexico Yucatan? You are in the right place. I will let you discover my Ultimate Travel Itinerary, the best parts of it, and errors I've made and I wish I knew before.
On my two-week trip in Mexico in the Yucatan peninsula, I've mostly seen men traveling on their own and only two girls that were each of them traveling solo. The guys traveling alone were mostly Europeans, whilst the women were from Latin America, used to that kind of insecurity.
It's better to make your research thoroughly before going to Yucatan Peninsula if you want to have a nice vacation.
How many days do I need to explore Yucatan Peninsula?
You will need a minimum of 2 weeks in Yucatan Peninsula, but 3 weeks are recommended to enjoy the pristine white beaches, delve into the Maya history and ruins, dive into the abyss of the blue cenotes and enjoy the exquisite local Mexican food. 
What is the best time to visit Yucatan Peninsula in Mexico?
The best time to visit the Yucatan Peninsula in Mexico is during the dry season. The dry season in Mexico runs from December to April. The weather is at its best, you'll enjoy clear skies and warm temperatures.
From March, temperatures turn quite hot, therefore sunscreen and water are more than a necessity.
However, it is also the busiest time of year, when accommodation and transportation prices go up. Make sure to book in advance.
From May to June and October to November are the periods less crowded due to rain, especially in the afternoon. You could still enjoy nice weather with fewer tourists around and rates considerably lower.
Pick the right time for you because you will enjoy it either way. 
How safe it is to go to Mexico?
The Yucatan peninsula is located on the Mexican Gulf coast and includes 3 Mexican states:
Yucatan (capital Merida)
Quintana Roo (capital Chetumal)
Campeche (capital Campeche)
Most of the resorts and popular beaches, are actually in Quintana Roo. The general public knows the region as Yucatan Peninsula, not the states. The driving distances between the states are also quite important. 
Good to Know!

From November to March, the state of Quintana Roo is 1 hour ahead of the Yucatan and Campeche states. 

I went from Cancun to Chichen Itza and I was so confused why I had 2 different hours on my two cells when I came back. One I put on airplane mode when I was in Chichen Itza to save battery and the other was connected to the Internet the entire time. At the Hotel I realized that the hours do not match until I put my phone from airplane mode to Wi-Fi. 
In terms of safety, there is a big difference between the states also. Yucatan and Campeche provinces are safer, with police, known as Guardia Nacional, driving at a fast pace in their cars with bulletproof vests and high-caliber firearms. At first glance, you could feel alarmed and question what is going on, but bear in mind they are there to protect the tourists. Once I understood that, I felt much more secure and relaxed. Of course, I also took precautions not to go alone during the night, not walking on isolated streets or less safe barios.
In Quintana Roo you will find more corruption and gangs. Be aware of your surroundings and stay in populated areas, securing your belongings at all times. You can still be safe here as well, you don't have to worry about that. As a Solo traveler, I recommend opting for organized trips where they are in charge of your safety.
Is it safe to drive in Yucatan Peninsula?
You can definitely drive safely and in good conditions in Mexico, especially in Yucatan Peninsula. Just stay out of the roads during the night as much as possible, especially if you go off the beaten path. The roads are in good shape, just be aware of TOPES – speed-reducing road bumps that are quite high and can destroy your car. They are installed to limit the speed and secure the roads, which is a good thing. 
If you decide to rent a car to get around, know that Yucatán has restrictions on drinking and driving of 0.08% BAC limit. during the night there is a significant number of state police and even medical personnel, taking breath samples in their quest to keep drunk drivers off the road.
BE AWARE OF SCAMS!

There is a lot of corruption, especially in Quintana Roo, so you will deal with policemen that stop you for no reason, just to get a bribe. They will invent some charges on you, but just stay calm, try to negotiate, or if it doesn't work try to call someone, a local. They will back off.

At the Gas stations you might be a victim of scams as well, so better watch at all times that the counter is at zero when you start filling your car. 

Propina (Tips) – as soon as they see you are a foreigner they will take everything from you. They will impose 20% Propina but know it is not legal to do that. 
HOW TO GET TO  TULUM
HOW TO GET TO TULUM FROM CANCUN AIRPORT
If you arrive by plane, you will mostly land at Cancun Airport (CUN), the 10th busiest airport in the world for international passengers. 
Be prepared to stay a long time to pass the border, and have all documents ready, return flight ticket, all the hotel reservations, and your passport. Visa, in case your nationality requires VISA.
If you don't have internet access, make sure to save screenshots of everything. You don't need to print them, they do not require it. I showed everything on my phone and everything was just fine.
After passing the border, be aware that they will make a thorough inspection of your luggage inside. Make sure to pack everything very compact, otherwise, you'll have a hard time putting everything back together. Do not try to take photos or videos of this stage, it is strictly prohibited. 
There were a few passengers that brought with them 2 packs of cigarettes, although only one is permitted. They made a scandal in there, but nothing has changed. At the duty-free in Paris they've been told they can bring 2 packs per person, but always check the country of destination if they accept as well. 
From the airport, the best way is to take the ADO busses from the airport directly to Tulum Pueblo. Check the photos above to see the cash desk of ADO buses in Cancun airport, right before exiting the airport.
The prices are quite OK, the standard of the bus is very good, you have A/C and toilet for your number 1 only. Check the destinations you have from Cancun airport and the rates in the photo above. Because of the A/C, it is very cold inside the bus, make sure to have something warm. 
HOW TO GET TO TULUM FROM PLAYA DEL CARMEN
Getting from Playa del Carmen to Tulum is quite easy. You can take ADO buses or you can adventure yourself on a ride in the Collectivo.
In Tulum, Collectivo is quite practical and cheap, 20 Pesos for residents and 30 Pesos for non-residents from Pueblo Tulum to Zona Hotelera. The bike rentals will tell you that Collectivo doesn't take tourists, only locals working in zona hotelera but it is not true. For the entire week I stayed in Tulum I used only Collectivo and had no problems.
If you are in Tulum and not a fan of Collectivo – public transportation from Tulum Pueblo (city center) to the Beach (Zona Hotelera). Several hostels and hotels include bikes in your stay, or you can rent directly from them, but they are a bit more expensive than bike shops. You can find them at every corner and rent them for around $/€ 6-10 a day. There are also options to rent mopeds.

Tulum is divided into two parts, the Pueblo and the Beach, about 3 miles apart and there is a nice sidewalk so biking is a great way to get around. However, the beach road doesn't have any street lights, so riding at night can be difficult without a headlamp.
I recommend you go to Tulum during the weekend if you want to explore the night high-life. If you are a fan of Ibiza or Mykonos, then you will love Tulum's nightlife.
If you are a more quieter type, that wants to do yoga and eat raw food and explore the Maya ruins, then it's better to go during the week, when Tulum is quite deserted. Less crowd, for you to enjoy the positive energies of Tulum.
THINGS TO DO IN TULUM
1. Go Into The Jungle to Witness Coba
2. Morning Yoga routine at the beach
3. Explore the Caves at Cenote Caracol
4. Beach Club party during the day
5. Nightclub life at Vagalume – look for Summerians sessions right from Ibiza – the best you'll ever experience
6. Explore the Sian Ka'an Biosphere
8. Indulge in the Maya history at Tulum Ruins
9. Giant Tree Man – Ven a la luz at Ahau – The Most Popular of Tulum Photo Spots
10. Adventure on a collectivo public transportation
BONUS: WHERE TO EAT in TULUM
 Raw Love Town – Pueblo
This was by far my favorite place in the entire Yucatan. Fresh and tasty Buddha Bowl, exactly how I like it, with fresh juices and a chill atmosphere. 
Taqueria Maya – Pueblo
If you want cheap tasty local tacos, this is your place
La Pizzine – Pueblo
Very nice place, with good pizzas, if you want to try something else than tacos
Casa Jaquar – Zona Hotelera
Very fancy place, expensive, and 20% propina mandatory, but good tasty food and full of high-class people
GITANO restaurant – Zona Hotelera
Same standing as Casa Jaguar.
CHECK OUT THE BEST Tulum tours
DID YOU FIND THIS ARTICLE USEFUL?
Tell me in the comments section if you've been to Mexico and what was your experience. If you are planning to go on solo travel ask me for some useful tips that are not in this article.
FOR MORE TRAVEL INSPIRATION, FOLLOW ME ON
DON'T MISS OUT ON THIS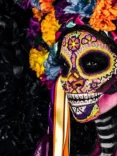 TOP FESTIVALS NOT TO MISS IN THE PHILIPPINES Festivals are a great way to see and experience the local culture of a city or a country. With a very tumultuous history, Filipinos did not lose their love for parties. There's a […]