HOW TO PLAN A TRIP TO BALI THAT COSTS LESS
How can I plan a cheap trip to bali?
Planning a cheap trip is never easy. It is mostly because it takes time to plan such a trip, find the best deals, know how not to get scammed as a tourist on the spot, and also, which itinerary to take.
Especially in Bali, even though it's not an expensive country, you can quickly get scammed. I will tell you all my experience and what I would've done differently to spend less on my trip to Bali.
First, is very important to be aware of the value of their currency. As you exchange 100€ you will have so much cash that everything will seem very cheap. But you will realize by the end of the day that you've spent way more than necessary.
Follow these simple rules and you will spend much less than the average tourists in Bali!
How to Travel to Bali on a Budget?
Bali is a very budget-friendly destination if you plan accordingly. It may seem like a very expensive destination when you see all those breathtakingly beautiful Instagramable places and infinity pools in the middle of rice fields. Rest assured, you can have all those experiences for much less. 
Follow my tips and make sure to learn from my experience!
1. What time of the year is the cheapest to go to Bali?
Bali can be experienced all year round. Nevertheless, the best time to travel to Bali is during the dry season. The dry season is from May to September, and there's no rain during this period.
Bali's wet season, and therefore, the cheapest season, is from October to April, the rain only lasts an hour or two. Because Bali has a distinctly tropical climate. Regardless of the season, you will rarely need anything more than a light jacket.
End-of January to mid-February is the cheapest period to fly to Bali in 2023, so start planning for January-February 2023 your cheapest trip to Bali.
From Europe, the cheapest connexion would be through Changi Airport in Singapour. From there you have very cheap direct flights with AirAsia to Denpasar. Air Asia and other budget airlines offer extremely cheap flights from Kuala Lumpur, Malaysia to Bali as well, so make sure to check those routes as well. Sometimes its cheaper to plan each segment on your own through direct flights.
2. Budget Accommodations in Bali
Bali is the best place if you want to stay on a budget in beautiful villas and resorts. Here everything is so cheap, the service is impeccable and the places are simply breathtakingly beautiful. Here are the Villas I've stayed in Bali which I recommend. Also, if you plan on staying a few weeks in Bali, I suggest you move to different areas of the island.
Start with Ubud and finish with Canggu, Seminyak, and Uluwatu or go up North for a more genuine experience of Balinese life.  
Royal JJ Ubud – Located in Petulu actually, this hotel is a perfect getaway from the crowded Ubud. You will wake up and see only rice fields around you. Prices start from 35€/night. Check prices and Book HERE.
Grandmas Plus Hotel Seminyak – Just a 2-minute walk from Seminyak Beach, this budget hotel offers modern, single rooms starting at 25 €/USD per night. Check prices and Book HERE.

Black Pearl Hostel in Canggu – This hostel has a restaurant, with free WiFi, an outdoor swimming pool, a garden, and pool view terraces. Single rooms start at 11€ per night for the end of January 2023. Check prices and Book HERE.
Kos One Hostel, Canggu – It has a beautiful pool and a buffet breakfast for those who love to have breakfast as soon as they wake up. This Hostel is an Instagram-worthy place for 22€ per night for the end of January 2023. Check prices and Book HERE.
3. Transportation Around Bali
Although the traffic is very rough, getting around in Bali is very easy. I do not recommend you rent a car as you are not used to that traffic and it could be overwhelming. You can rent a scooter which is very practical and not expensive at all, and you can navigate better in between cars. 
Here is what you can do if you Travel Solo for the first time to Bali:
Find at your Hostel or even on the beach, or at the restaurant, a friend to share the daily activities. You can book a personal driver for the day and share the cost, that will walk you everywhere you need. I paid 400K IDR (27€ or 26 USD). They really go the extra mile to make you feel comfortable and deliver a bespoke service.
Take a taxi scooter. For instance, if you need to go for a relatively short distance and spend the day there, just look for locals that propose to drive you with their scooter. I usually paid between 50K and 80K IDR (3-6 €/USD), depending on the distance. They provide you with a helmet, as it is forbidden in Bali to ride without a helmet.
Use the Go-Jek or Grab app to book a taxi. There is a standard base fare for Bali taxis of around 0.44 €/USD (7K IDR), and an additional charge per km of around 0.47 €/USD (7.5K IDR).
Rent a bike and ride like Julia Roberts in Eat, Pray, Love for total satisfaction.
EAT ON A BUDGET IN BALI
When planning a trip, we all know that Transportation, Accommodation, and Food are the primary expenses. That's why, when there's room for money saving, we should start with these points.
Food can easily be pricey, depending on where you are eating and how much you enjoy fancy restaurants. But rest assured, it is very easy to stay on a budget in Bali when it comes to food.
Local food and street food are very affordable and very tasty. On my second day in Bali, I took a Local Cooking Class and I am so glad I did this because I discovered how tasty Balinese food is.
Where to Eat Cheap in Bali?
If you look for local and cheap food, Nasi Goreng at the Local Warungs is your best option. You can find them everywhere in Bali. Just look for those little brown paper bags or banana leaves bags, in the shape of a triangle. Inside you'll find a local specialty, Nasi Ayam or "chicken and rice". Sometimes you can find inside a little piece of fried tempeh (or tempe) as well.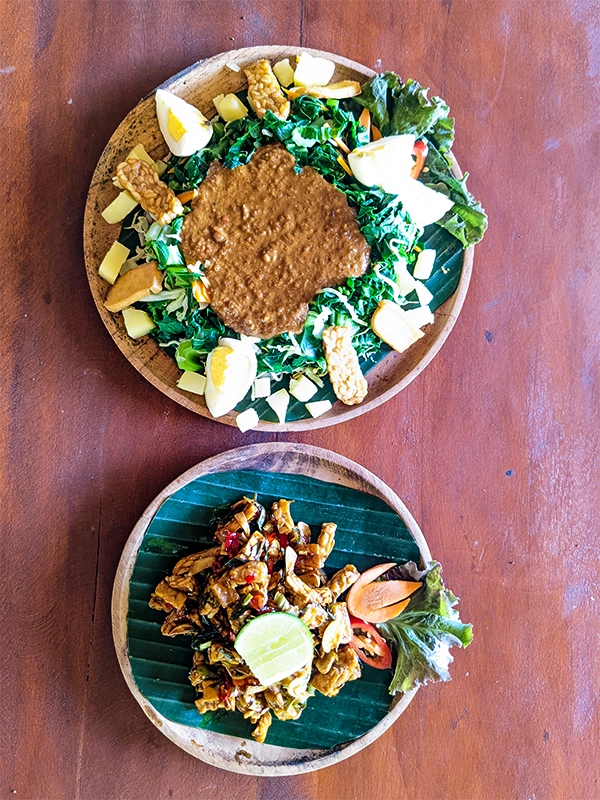 LOCAL CUISINE VS WESTERN RESTAURANTS
Local Balinese food is tasty and very cheap if you go to Warungs, but if you're not into Asian food, know that you can eat at a decent price per meal at Western Restaurants as well.
Also, Ubud is a little bit more pricey in terms of restaurants than the other areas, like Canggu, Uluwatu, Seminyak, or even Amed.
Here are just a few cheap places where you can eat delicious food and stay on your budget.
1. Watercress Cafe in Ubud
2. Wok Wok for Breakfast in denpasar
3. Tablespoon Bistro in ubud
4. Waroeng Bernadette in Seminyak
5. Beach Boy Canggu
6. Suka Espresso in Uluwatu
CHECK OUT THE BEST ACTIVITY TOURS IN BALI
DID YOU FIND THIS ARTICLE USEFUL?
Tell me in the comments section if you've been to Bali and what was your experience. If you are planning to go on solo travel to Bali ask me for some useful tips that are not in this article.
FOR MORE TRAVEL INSPIRATION, FOLLOW ME ON
DON'T MISS OUT ON THIS
My experience as a solo female traveler in Bali Going on a Solo Trip, especially as a female traveler can be overwhelming. I've been on so many Solo Travels that you would think I got used by now. But when […]