THE BEST TIME TO VISIT MEXICO
Mexico is one of those destinations that are wonderful to visit all year round.
Mexico is a big country with a different climate, as it stretches for nearly 800 000 square miles and is split up into 32 different states.
In the North of the country, you will find an extremely dry season. Go to Baja California around February-March for whale sighting and sea kayaking.
Mexico City is a year-round destination with more moderate temperatures. November is a great month to visit the capital, but so is the period between March to May.
The best time to visit the Yucatan Peninsula in Mexico is during the dry season. The dry season in Mexico runs from December to April. The weather is at its best, you'll enjoy clear skies and warm temperatures.
From March, temperatures turn quite hot, therefore sunscreen and water are more than a necessity. However, it is also the busiest time of year, when accommodation and transportation prices go up. Make sure to book in advance.
The high season is considered to be January, November, and December in Mexico. May is the cheapest month to go to Mexico.
Mexico has a lot to offer in every season, so I would suggest deciding in advance what you want to do and afterward looking at when would be the best time to visit.
If you are not a fan of crowds, avoid Cancun in March and April when Spring Break takes place. May, when the rainy season begins, and November, when hurricane season ends, are two of Mexico's quietest months.

I went to the Yucatan Peninsula in January and February and had an amazing time. Temperatures could reach 31°C, I had some showers during the day, but very rare, and in the evening I needed a jacket on some occasions. The water was perfect for swimming all around Yucatan Peninsula. Sunscreen is more than needed. On the first day, I did not put sunscreen on my skin and I was wearing a t-shirt. I got sunburned where I had no fabric covering my body.
Pick the right time for you because you will enjoy it either way.

h

ere's my guide on the best time to travel to MEXICO

!
Hi there! I'm Alina, but my friends call me Ally.
I am a Parisian Solo Traveler who left my Retail job in Luxury Fashion to become a full-time wanderer.
I've followed my passion and now I wander the world to Explore, Empower & Educate Solo Travelers.
Join my Tribe!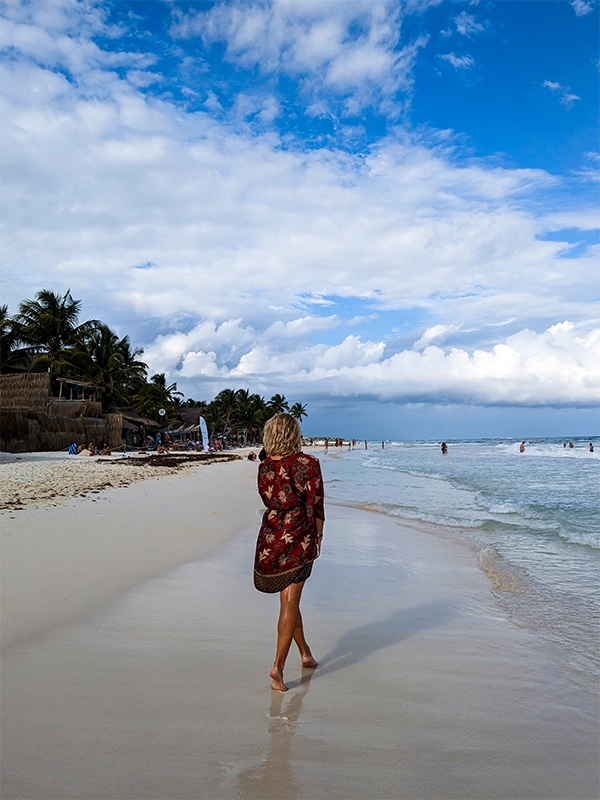 1. TRAVELING DURING THE DRY SEASON IN MEXICO
The dry season starts in December and ends in April.
If you're visiting Mexico for the beach, travel after the hurricane season has passed. From December to April, it's the dry season in Mexico with sunny days and lower humidity. With cooler temperatures inland, at 24°C usually, they can still reach averages of 28°C during the dry season.
Late summer (August to October) is the best time to hop on the coast as there are fewer tourists and lower rates. If you want to explore the jungles or the mountains, visit during the winter months to avoid the rainfall and humidity. Also, this is the perfect weather for hiking!
If you head to Cancun, March is the ideal time, as it's the driest month, with a low humidity level, which will make the 34°C temperatures slightly more comfortable.

Activities you will find only during THE DRY SEASON ALL AROUND MEXICO
Día de la Candelaria on the 2nd of February (exactly my birthday) is a religious festival where people bring figures of the Christ Child to the church and have them blessed.

Son Jarocho Music Festival, celebrated every 8th of February, features a combination of religion and contemporary music

Festival de México en el Centro Histórico in Mexico City. This is a two-week festival that takes place from mid-to-late March, depending on when Easter falls that year.
The Veracruz Carnival, is a 9-day event that features vibrant and colorful parades, dance performances, and live music.
2. TRAVELING DURING THE WET SEASON IN MEXICO
The wet season begins in May and last until October.
May to June and October to November are the periods less crowded due to rain, especially in the afternoon. But rest assured, you can still enjoy nice weather with fewer tourists around. And the best part is that the rates are considerably lower.

If you head to Cancun, the wet season begins in June, with hurricanes and tropical storms from September to October, but sometimes they can start in June.

Is it OK to go to Mexico in July?
July to August is a good season to visit, the summer heat fades away, but the crowds are invading entire Mexico. The weather makes it perfect for enjoying beach time.
Activities you will find only during THE WET SEASON ALL AROUND MEXICO
Cinco de Mayo is celebrated every May 5th and commemorates Mexico's victory over France in the Battle of Puebla.
Día de la Marina Nacional (Navy Day) – First day of June, entire Mexico commemorates its armed forces for their role in the War of Independence.
Guelaguetza Festival, also known as Los Lunes del Cerro, or Mondays on the Hill, is an amazing cultural experience for tourists.
Día de Muertos (Day of the Dead) is officially celebrated on the 2nd of November. However, Mexicans celebrate it on November 1, dedicating it to children, as the Día de los Inocentes or Day of the Innocents.
CHECK OUT THE BEST ACTIVITY TOURS IN MEXICO
DID YOU FIND THIS ARTICLE USEFUL?
Tell me in the comments section your opinion about Mexico and your favorite time to visit this wonderful country.
FOR MORE TRAVEL INSPIRATION, FOLLOW ME ON
MEXICO SOLO TRAVEL REPORTAGE
TOP-RATED RESTAURANTS & CAFES IN MEXICO
You say Mexico and the first word that comes to mind is Tacos. The Yucatan Peninsula has some delicious places where you can dwelve into the Mexican gastronomy.
These 10 mouth-watering Mexican dishes you should definitely try if you plan to visit Mexico. Includes my favorite Mexican restaurants in the Yucatan Peninsula that you must not miss.
EATING ON A BUDGET AROUND THE WORLD
DON'T MISS OUT ON THIS
10THINGS TO DO ON A SOLO TRIP TO CANCUN THINGS TO KNOW BEFORE VISITING YUCATAN PENINSULA Are you planning a 2 weeks trip to Mexico Yucatan? You are in the right place. I will let you discover my Ultimate Travel […]