10 THINGS TO DO ON A SOLO TRIP TO CANCUN
THINGS TO KNOW BEFORE VISITING YUCATAN PENINSULA
Are you planning a 2 weeks trip to Mexico Yucatan? You are in the right place. I will let you discover my Ultimate Travel Itinerary, the best parts of it, and errors I've made and I wish I knew before.
On my two-week trip in Mexico in the Yucatan peninsula, I've mostly seen men traveling on their own and only two girls that were each of them traveling solo. The guys traveling alone were mostly Europeans, whilst the women were from Latin America, used to that kind of insecurity.
It's better to make your research thoroughly before going to Yucatan Peninsula if you want to have a nice vacation.
How many days do I need to explore Yucatan Peninsula?
You will need a minimum of 2 weeks in Yucatan Peninsula, but 3 weeks are recommended to enjoy the pristine white beaches, delve into the Maya history and ruins, dive into the abyss of the blue cenotes and enjoy the exquisite local Mexican food. 
What is the best time to visit Yucatan Peninsula in Mexico?
The best time to visit the Yucatan Peninsula in Mexico is during the dry season. The dry season in Mexico runs from December to April. The weather is at its best, you'll enjoy clear skies and warm temperatures.
From March, temperatures turn quite hot, therefore sunscreen and water are more than a necessity.
However, it is also the busiest time of year, when accommodation and transportation prices go up. Make sure to book in advance.
From May to June and October to November are the periods less crowded due to rain, especially in the afternoon. You could still enjoy nice weather with fewer tourists around and rates considerably lower.
Pick the right time for you because you will enjoy it either way. 
How safe it is to go to Mexico?
The Yucatan peninsula is located on the Mexican Gulf coast and includes 3 Mexican states:
Yucatan (capital Merida)
Quintana Roo (capital Chetumal)
Campeche (capital Campeche)
Most of the resorts and popular beaches, are actually in Quintana Roo. The general public knows the region as Yucatan Peninsula, not the states. The driving distances between the states are also quite important. 
Good to Know!

From November to March, the state of Quintana Roo is 1 hour ahead of the Yucatan and Campeche states. 

I went from Cancun to Chichen Itza and I was so confused why I had 2 different hours on my two cells when I came back. One I put on airplane mode when I was in Chichen Itza to save battery and the other was connected to the Internet the entire time. At the Hotel I realized that the hours do not match until I put my phone from airplane mode to Wi-Fi. 
In terms of safety, there is a big difference between the states also. Yucatan and Campeche provinces are safer, with police, known as Guardia Nacional, driving at a fast pace in their cars with bulletproof vests and high-caliber firearms. At first glance, you could feel alarmed and question what is going on, but bear in mind they are there to protect the tourists. Once I understood that, I felt much more secure and relaxed. Of course, I also took precautions not to go alone during the night, not walking on isolated streets or less safe barios.
In Quintana Roo you will find more corruption and gangs. Be aware of your surroundings and stay in populated areas, securing your belongings at all times. You can still be safe here as well, you don't have to worry about that. As a Solo traveler, I recommend opting for organized trips where they are in charge of your safety.
Is it safe to drive in Yucatan Peninsula?
You can definitely drive safely and in good conditions in Mexico, especially in Yucatan Peninsula. Just stay out of the roads during the night as much as possible, especially if you go off the beaten path. The roads are in good shape, just be aware of TOPES – speed-reducing road bumps that are quite high and can destroy your car. They are installed to limit the speed and secure the roads, which is a good thing. 
If you decide to rent a car to get around, know that Yucatán has restrictions on drinking and driving of 0.08% BAC limit. during the night there is a significant number of state police and even medical personnel, taking breath samples in their quest to keep drunk drivers off the road.
BE AWARE OF SCAMS!

There is a lot of corruption, especially in Quintana Roo, so you will deal with policemen that stop you for no reason, just to get a bribe. They will invent some charges on you, but just stay calm, try to negotiate, or if it doesn't work try to call someone, a local. They will back off.

At the Gas stations you might be a victim of scams as well, so better watch at all times that the counter is at zero when you start filling your car. 

Propina (Tips) – as soon as they see you are a foreigner they will take everything from you. They will impose 20% Propina but know it is not legal to do that. 
HOW TO GET TO CANCUN
If you arrive by plane, you will mostly land at Cancun Airport (CUN), the 10th busiest airport in the world for international passengers. 
Be prepared to stay a long time to pass the border, and have all documents ready, return flight ticket, all the hotel reservations, and your passport. Visa, in case your nationality requires VISA.
If you don't have internet access, make sure to save screenshots of everything. You don't need to print them, they do not require it. I showed everything on my phone and everything was just fine.
After passing the border, be aware that they will make a thorough inspection of your luggage inside. Make sure to pack everything very compact, otherwise, you'll have a hard time putting everything back together. Do not try to take photos or videos of this stage, it is strictly prohibited. 
There were a few passengers that brought with them 2 packs of cigarettes, although only one is permitted. They made a scandal in there, but nothing has changed. At the duty-free in Paris they've been told they can bring 2 packs per person, but always check the country of destination if they accept as well. 
From the airport, the best way is to take the ADO busses from the airport directly to Cancun Downtown. Check the photos above to see the cash desk of ADO buses in Cancun airport, right before exiting the airport.
The prices are quite OK, the standard of the bus is very good, you have A/C and toilet for your number 1 only. Check the destinations you have from Cancun airport and the rates in the photo above. Because of the A/C, it is very cold inside the bus, make sure to have something warm. 
When you arrive in Cancun, if you stay in Zona Hotelera, you can take the R1 & R2 buses that can connect the Hotel Zone, Boulevard Kukulcán (downtown), and Avenida Tulum. The buses run every five minutes and will take you back and forth between downtown and the Hotel Zone. A one-way fare costs 12 Pesos which is roughly 50 cents in USD/€. The buses do not accept foreign coins and make sure to carry Pesos on you, not bills, as it is difficult for them to break big bills. There are plenty of stations between Zona Hotelera and Downtown, but it will stop all along the way if you make a sign. The drivers are very accommodating and friendly.
Remember you are in Mexico, don't expect luxury buses. They are OK, usually destined for locals going to work in the Zona Hotelera, but I saw a lot of tourists as well. During rush hours buses can be full, like in the below pictures, but for instance, I was going to Coco Bongo one evening with another Solo Traveler and we were the only two girls in the entire bus. It was like we had our private ride to Coco Bongo. 
THINGS TO DO IN CANCUN
1. Relax at Playa Delfines
2. Party at Coco Bongo
3. Tan at Playas Tortugas Beach
6. MAYA MUSEUM
7. Dive at the Cancun Underwater Museum
8. Shop at Mercado 28
9. Visit El Rey Archaeological Site
10. day trip to Isla Mujeres
BONUS: WHERE TO EAT IN CANCUN
 I was so surprised to find so many places where they had very good food, it was like paradise. I understand better now Taco Tuesdays in America and why you find so much Mexican food in the USA.
Despite finding a lot of good restaurants, I will give you a handful of my top restaurants I've been there more than once.
My favorite restaurants in CANCUN
Restaurante MEXTREME in Zona Hotelera, Boulevard Kukulcan Km 9.5
Very tasty fruits, a great breakfast, and an amazing atmosphere during the dinner service
WHERE TO STAY IN CANCUN
Fabulous hotel, with spacious rooms and a great view of the marina from the Pool and the rooms. Solo travelers particularly like the location
Set in Cancún, 3 km from Beto Avila Stadium, Moon Palace Cancun – All Inclusive offers accommodation with a fitness center, free private parking, a garden, and a terrace. This 5-star hotel offers room service and a 24-hour front desk. Guests can dine in the in-house restaurant or relax in the bar.
If you want to be outside of the rush of the city and have a car rented, this is the ideal escape place. Located in Cancún, Bonito y cómodo apartamento a tu alcance provides a private pool and free WiFi. This air-conditioned apartment has 2 bedrooms, a cable flat-screen TV, a dining area, a kitchen with a fridge, and a living room.
Haven Riviera Cancun – All Inclusive – Adults Only offers accommodation with an outdoor swimming pool, free private parking, a fitness center, and a garden. With free WiFi, this 5-star resort has a shared lounge and a terrace. The accommodation provides a hot tub, nightclub, and room service.
CHECK OUT THE BEST Mexico tours
DID YOU FIND THIS ARTICLE USEFUL?
Tell me in the comments section if you've been to Mexico and what was your experience. If you are planning to go on solo travel ask me for some useful tips that are not in this article.
FOR MORE TRAVEL INSPIRATION, FOLLOW ME ON
DON'T MISS OUT ON THIS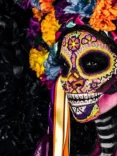 TOP FESTIVALS NOT TO MISS IN THE PHILIPPINES Festivals are a great way to see and experience the local culture of a city or a country. With a very tumultuous history, Filipinos did not lose their love for parties. There's a […]